PHOTOGRAPHS
Filipino American History Month Events 2013
The Filipino-American Historical Society of Hawaii (FAHSOH) coordinated one event to commemorate Hawaii's official recognition of Filipino American History Month (FAHM). Although recognized on the U.S. continent for several years, FAHM became officially recognized in Hawaii in 2008 with the passing of legislation introduced by State Representative Joey Manahan (Kalihi).
October 27, 2013 (Saturday)
FilAm History Fest 2013: Filipino Martial Arts in Hawaii. Filipino Community Center, Waipahu, 3:30 - 6:30 p.m.
FilAm HistoryFest 2013 was co-sponsorship by the Filipino Community Center, the UHM Office of Multicultural Student Services and XOOM.
This event was organized by UHM OMSS director and FAHSOH member, Clement Bautista, with assistance from Erwin Legaspi and other members of FAHSOH. Bringing together several eskrima schools for a purely exhibition event was not done in decades, so HistoryFest 2013 was greatly appreciated by the audience as well as by the participants.
Members of General Ablen's School of Derobio Escrima opened the exhibition. Chief Masters Gary and Leslie Largo trained under Great Grand Master Braulio Pedoy and Eduardo Pedoy (The Bakitan).
Del Mar School of Filipino Martial Arts, led by Maestro Mike Del Mar, followed. Maestro Mike organized the first full contact Solo Baston Escrima Tournament in Pearl City, Hawaii.
Hawaii Filipino Martial Arts School, under the leadership of Guro Pat Amantiad, was next. Guro Pat studied with Guro Dan Inosanto.
Grandmaster Alfredo Bandalan was present to introduce the Hawaii Bandalan Doce Pares Eskima School, led by four-time WEKAF division world champion Master Robert Garcia.
Tuhan Marc Behic (right) brought his Pulahan Madirigma School and exhibited his handmade sticks. Tuhan Marc has developed his own 47 strike system of eskrima.
Sinao Tjakalele school, under Grand Master Rudy Orlanda, completed the afternoon of demonstrations. Having studied under Great Grand Master Floro Villabrille, Grand Master Rudy developed his own system of martial arts reflecting Filipino (kali and eskrima), Chinese/Hawaii (kenpo and kajukenbo) and Indonesia (tjakalele and sinao) origins.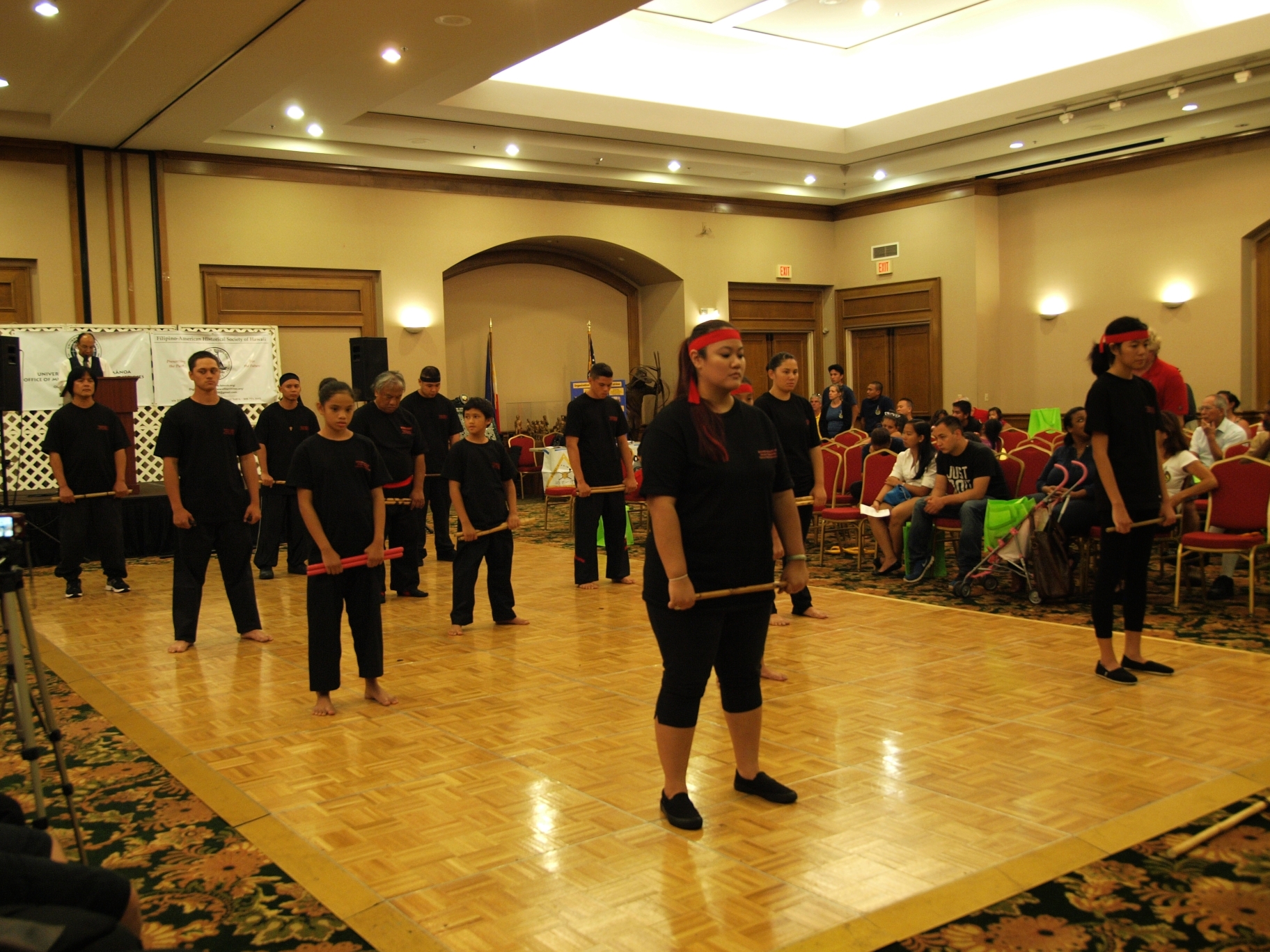 Masters Robert Garcia (left) and Mike Del Mar (right) "joke" together.
The Hawaii Organization of Pilipino Eskrima brings together several schools to promote eskrima.
The six schools present at HistoryFest 2013 do not represent all the eskrima schools in Hawaii, or even on Oahu. The afternoon demonstrations and networking have inspired a more formal documentation of Hawaii's contribution to Filipino martial arts.
eFIL: Filipino American Digital Archives and History Center of Hawaii
Updates of FAHSOH's digital archive project and preservation resources are available on the eFIL website. [link]