Filipino Digital Archives and History Center, Phase II
October 29, 2008
The Hawaii State Foundation on Culture and the Arts awarded FAHSOH with second year funding of a Biennium Grant - Preserving Family Collections Workshop. FAHSOH will continue conducting community-based workshops encouraging individuals to preserve their family records and photographs. Workshops cover developing basic strategies on selecting and preserving documents and images. The following is a tentative list of locations throughout the islands on which workshop have been/will be conducting through 2009.
Hilo, Hawaii
Honokaa, Hawaii
Lanai City, Lanai
Kaunakakai, Molokai
Maui (place TBD)
Kauai (place TBD)
Waipahu, Oahu
Preservation resources are available on the eFIL website. [link]
Filipino American History Month Events 2008
The Filipino-American Historical Society of Hawaii (FAHSOH) coordinated several activities to commemorate Hawaii's first official recognition of Filipino American History Month (FAHM). Although recognized on the U.S. continent for several years, FAHM became officially recognized in Hawaii this year with the passing of legislation introduced by State Representative Joey Manahan (Kalihi). The following activities were coordinated by FAHSOH.
October 25, 2008
Four of Hawaii's emerging Filipino American poets read from their works on Filipino identity and pride. Hawaii State Library Reading Room.
October 22, 2008
"HistOracle" Presentation. Theo Gonzalves and David Goldberg of the University of Hawaii present their "beta" audio database project. Funded by the Hawaii Committee for the Humanities. UHM. [link here]
October 18, 2008
Emme Tominbang. Presentation and discussion of "Mabuhay with Aloha: The Hawaii Filipino Experience, 1906-2006." DVD. Hawaii State Library Reading Room.
October 16, 2008
"A Wahiawa Hero: Stanley Sabihon." An exhibit on Capt. Stanley Sabihon, U.S. Army Air Corps, first Filipino pilot of a B-17 during WWII. Exhibit assembled by FAHSOH members, Carl Berger and Clement Bautista. Wahiawa Library.
Carl Berger and Clement Bautista at Wahiawa Library before opening.
Some of the audience at opening.
October 12, 2008
"The 1970 Ota Camp Housing Struggle, A Success Story." Talk story with community leader Pete Tagalog, who recounts the Ota Camp struggle to retain their homes and own the land on which they live. Hawaii Plantation Village Social Hall.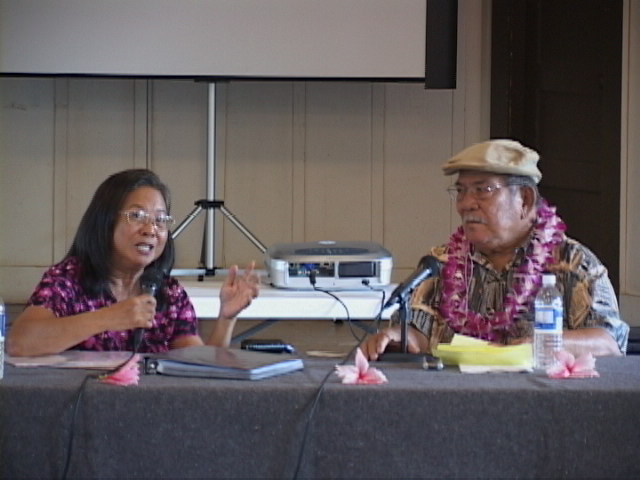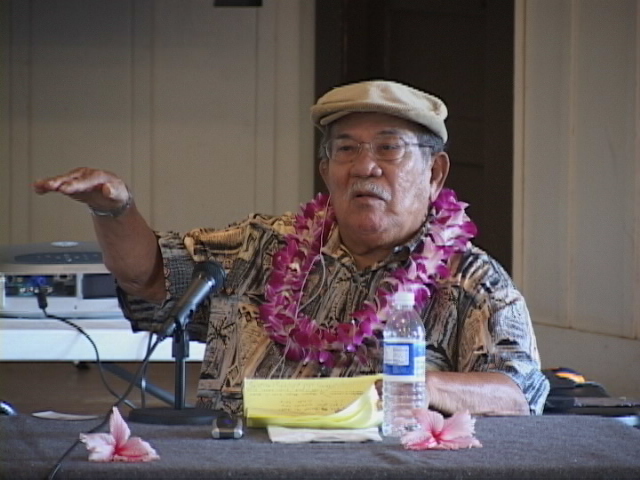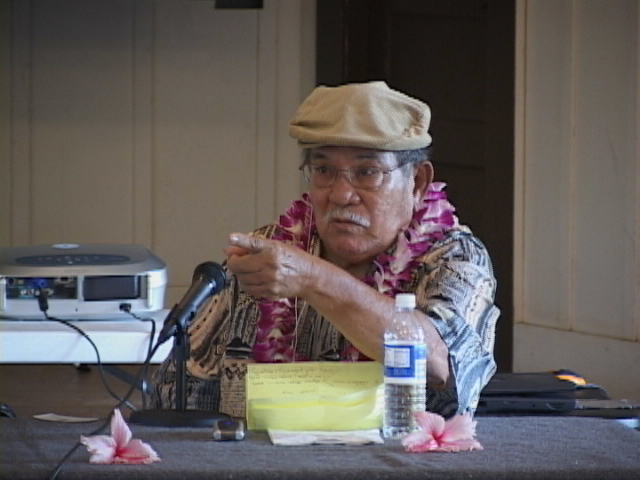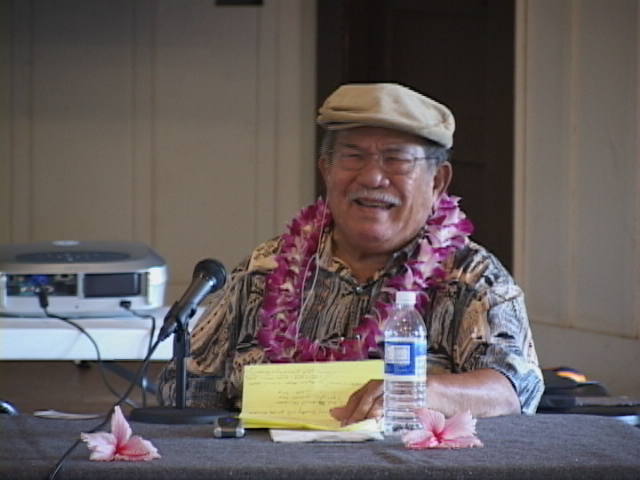 Deana Espinas moderates talk story with Pete Tagalog.
October 11, 2008
"Growing Up Filipino in Hawaii." Panel discussion. Filipinos from different demographic backgrounds discuss issues and challenges faced during their formative years in Hawaii. Hawaii State Library Reading Room.
Deanna Espinas (moderator) with panelists Clement Bautista,
Lise Miller, Randy Cortez and Karen Nakagawa.
October 4, 2008
FAHSOH opening of "Singgalot...Ties That Bind" exhibit at the Hawaii State Library. Curated by Dean Alegado (formerly, UH associate professor of ethnic studies), "Singgalot..." is an expansive overview of the various relationships forged between the peoples of the U.S. and the Philippines originally created by the Smithsonian Institute to commemorate the 2006 centennial year of Filipino migration to the U.S. Present for this new installation was Rep. Joey Manahan, Philippine Consul Lourdes Tabamo and the Silangan Singers.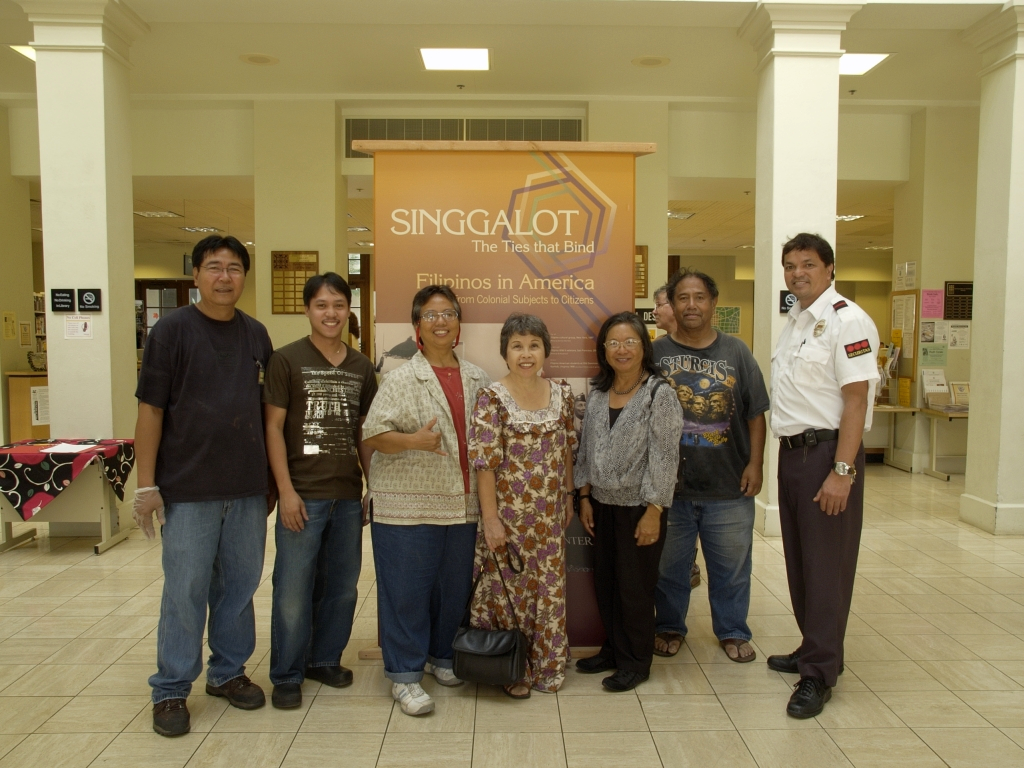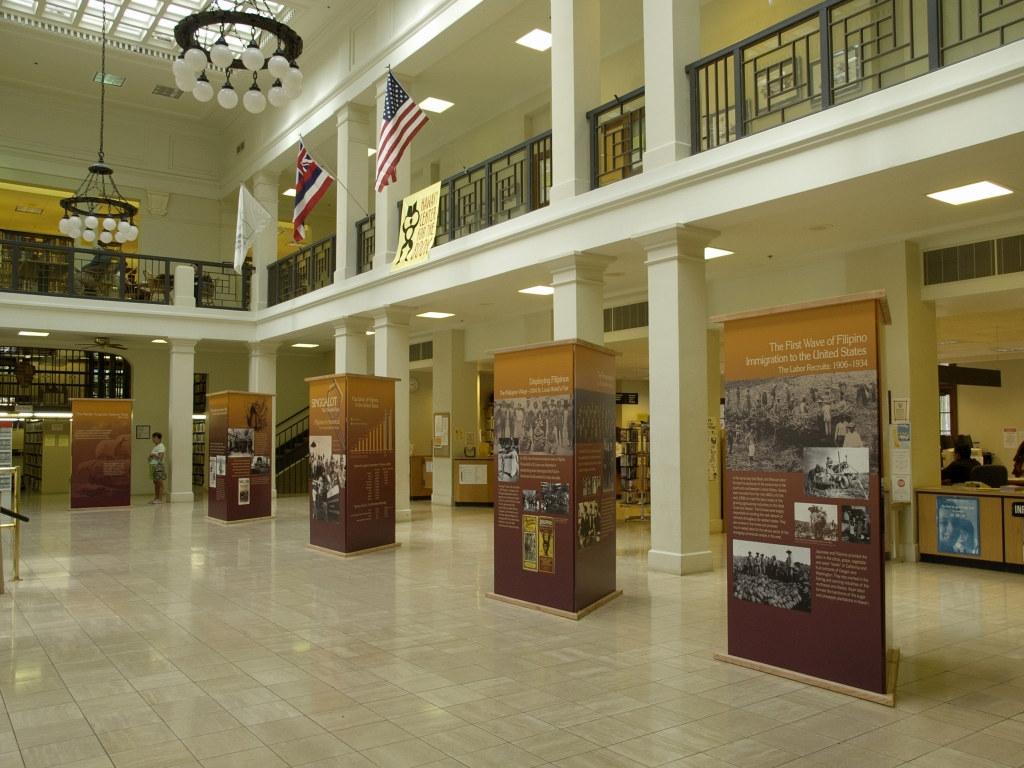 FAHSOH members and State Library staff at exhibit installation.
Opening ceremonies with Silangan Singers.
Other FAHSOH Activities
Coverage of FAHSOH activities in other years:
[FAHSOH 2019] [FAHSOH 2018] [FAHSOH 2017] [FAHSOH 2016] [FAHSOH 2015] [FAHSOH 2014] [FAHSOH 2013] [FAHSOH 2012] [FAHSOH 2011] [FAHSOH 2010] [FAHSOH 2009] [FAHSOH 2008]
eFIL: Filipino American Digital Archives and History Center of Hawaii
Updates of FAHSOH's digital archive project and preservation resources are available on the eFIL website. [link]