Filipino American History Month Events 2016
The Filipino-American Historical Society of Hawai'i (FAHSOH) coordinates several activities commemorating Hawaii's official recognition of Filipino American History Month (FAHM) in October. Although recognized on the U.S. continent for several years, FAHM became officially recognized in Hawai'i in 2008 with the passing of legislation introduced by State Representative Joey Manahan (Kalihi). For 2016 FAHSOH presents a preview of two new documentary projects.
New Documentary Previews: Hawaii Masters of Eskrima and Living Treasure
October 30, 2016, 4:00 - 6:00 p.m.
Filipino Community Center
94-428 Mokuola Street, Waipahu, HI 96797.

FAHSOH will present previews of two new documentaries for Filipino American History Month during "FilCom Sundays" event held on October 30th, at the Filipino Community Center. The two documentaries -- Hawaii Eskrima Masters and Living Treasure -- are part of ongoing projects to document the lives and experiences of Filipino Americans in Hawaii.
Hawaii Masters of Eskrima is a project documenting several of Hawaii's masters who laid the foundations for and have been influential in today's practice of eskrima in Hawaii and abroad. While eskrima -- a Filipino martial arts also known as kali or arnis -- has gained popularity in the U.S. and around the world, Hawaii's contribution has often been neglected. Nine Oahu eskrima schools from Beretania, Ewa, Halawa, Kalihi and Waipahu are featured in Hawaii Masters of Eskrima. In this screening, a 45-minute preview of selections from the final cut will be presented. The final product will be a DVD with each school articulating their own history, philosophy and approach to the martial arts. This project is funded in part by the Hawaii Council for the Humanities and the UHM Office of Multicultural Student Affairs.
Living Treasure, is the second film in The Sakada Series, a series of three short documentaries capturing the personal stories and successes of Hawaii's sakadas. Sakadas are Filipino contract workers who immigrated to Hawaii between 1906-1946 to work in Hawaii's sugar and pineapple plantations. Living Treasure highlights the life of Angel Ramos, a sakada who immigrated to Hawaii in 1946 to work for the Kahuku Sugar Plantation. Angel Ramos was honored as a "Living Treasure" in 1998 by the Honolulu City Council for his lifetime of diligence in keeping the history of the Filipino plantation worker in Hawaii alive by sharing his stories, artifacts and photographs. Living Treasure will feature some of Angel's artifacts and photographs, as well as anecdotes from one of his entertaining "Plantation Talk Story" events at the Kahuku Public Library. This project is funded in part by the Honolulu Mayor's Office for Culture and the Arts, the Atherton Family Foundation and Boutique de Voile.
For more information, send email to: fahsoh808@gmail.com or download the following files:
Filipino Heroes Exhibits
April 9 - May 6, 2016 (extended to May 31)
Kapolei Public Library
1020 Manawai St., Kapolei, HI 96707. See library webpage for hours.

Three previously viewed Filipino-American Historical Society of Hawaii exhibits are displayed at the Kapolei Public Library, April 9 through May 6. FAHSOH's 2014 "Forgotten Filipino Heroes" will be on display along with an exhibits on Philippine heroes, Jose Rizal and Apolinario Mabini. The exhibit on Rizal was originally co-sponsored by the Knights of Rizal, Hawaii Chapter.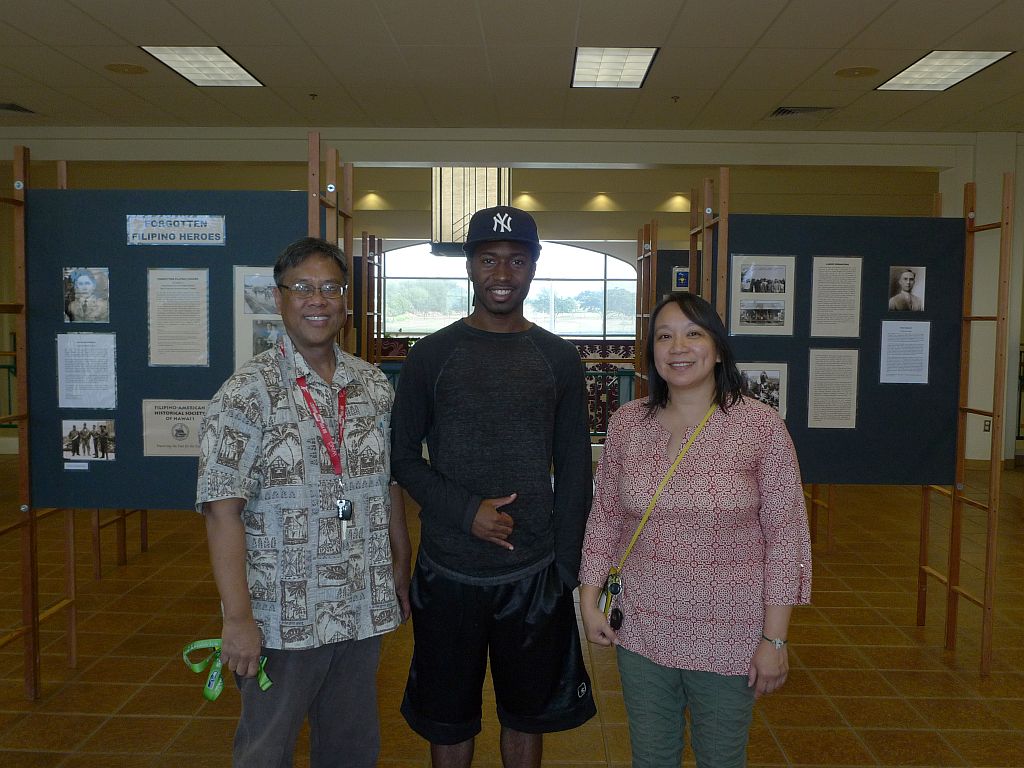 (L to R) Frankie Pasion (Kapolei Library Adult Services), Dalton Bruno (OMSS intern) and Gina Vergara-Bautista (FAHSOH) at exhibit installation. These exhibits are presented at Kapolei Public Library co-sponsored by the Kapolei Public Library and the UHM Office of Multicultural Student Services.
Hawaii's Masters of Eskrima Documentation Project


Building upon the enthusiastic response from last years FilAm HistoryFest 2013: Filipino Martial Arts in Hawaii, FAHSOH received a grant from the Hawaii Council for the Humanities to produce a video documentary on Hawaii masters of Filipino martial arts. Included in this project will be oral histories of the masters and displays of the martial arts styles perpetuated by the schools associated with the masters. Clement Bautista, FAHSOH member and eFIL administrator, is the project director. Funding is, in part, provided by the Hawaii Council for the Humanities. Release of the DVD is scheduled for December 2014, with presentations throughout the islands in 2015.
Eskrima documentation project is still on-going. Project completion is in the Fall 2015, with presentations to follow.
eFIL: Filipino American Digital Archives and History Center of Hawaii
New digitized publications -- including Sakada: Filipino Adaptation in Hawaii, Ruben Alcantara's study of Filipino migrant workers in Hawai'i -- and other updates of FAHSOH's digital archive project and preservation resources are available on the eFIL website.
Philippine Komiks: Creating and Reflecting Filipino Sensibilities
On going from December 11, 2011
Filipino Community Center, Waipahu, Oahu.
FAHSOH member Clement Bautista, administrator of eFIL: Filipino Digital Archives of Hawaii, assembled a traveling exhibit on Philippine komiks entitled, Philippine Komiks: Creating and Reflecting Filipino Sensibilities. The exhibit explores the formal constructs of komiks and how they communicate through their structural features. From the earliest known komiks created by Philippine national hero, Jose P. Rizal, to contemporary variations of the superwoman Darna, Filipino notions of time, place, personhood and hierarchy are created and reflected. By examining komiks within the Philippine context, as an activity of objectified reflection, this project will attempt to present a more generalized approach to understanding the comics phenomena that continually captives our society. Funded, in part, by the Hawaii Council for the Humanities. Go to Philippine Komiks exhibit webpage: [click here].
Exhibit previously on display at Hamilton Library Asian Collection (University of Hawaii at Manoa) and the Hawaii State Library (Honolulu).
Other FAHSOH Activities
Coverage of FAHSOH activities in other years:
[FAHSOH 2019] [FAHSOH 2018] [FAHSOH 2017] [FAHSOH 2016] [FAHSOH 2015] [FAHSOH 2014] [FAHSOH 2013] [FAHSOH 2012] [FAHSOH 2011] [FAHSOH 2010] [FAHSOH 2009] [FAHSOH 2008]
eFIL: Filipino American Digital Archives and History Center of Hawaii
Updates of FAHSOH's digital archive project and preservation resources are available on the eFIL website. [link]