Filipino American History Month Events 2018
The Filipino-American Historical Society of Hawai'i (FAHSOH) coordinates several activities commemorating Hawaii's official recognition of Filipino American History Month (FAHM) in October. Although recognized on the U.S. continent for several years, FAHM became officially recognized in Hawai'i in 2008 with the passing of legislation introduced by State Representative Joey Manahan (Kalihi).
Congressional Gold Medal Awards Ceremony
May 6, 2018
Hilton Hawaiian Village, Coral Ballroom
2005 Kalia Road, Honolulu, Hawaii, 96815.

As part of the awarding ceremony for the Filipino Veterans Congressional Gold Medal, FAHSOH prepared an exhbit, "Loyalty & Valor: Hawaii's Filipino and Filipino American Soldiers." Exhibit will be shown at other CGM events and public venues throughout the year.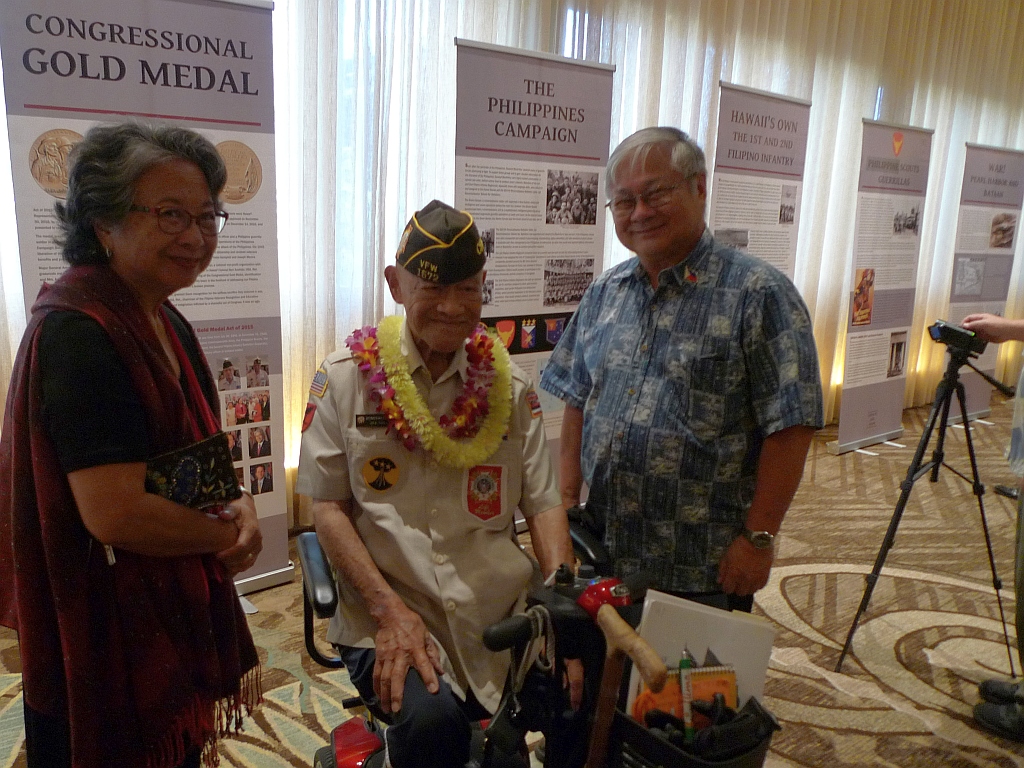 Hawaii Masters of Eskrima
various
Hawaii Masters of Eskrima DVD is being distributed to libraries and will be available for purchase to the general public.
For more information, send email to: fahsoh808@gmail.com.
Hawaii's Masters of Eskrima Documentation Project


Building upon the enthusiastic response from last years FilAm HistoryFest 2013: Filipino Martial Arts in Hawaii, FAHSOH received a grant from the Hawaii Council for the Humanities to produce a video documentary on Hawaii masters of Filipino martial arts. Included in this project will be oral histories of the masters and displays of the martial arts styles perpetuated by the schools associated with the masters. Clement Bautista, FAHSOH member and eFIL administrator, is the project director. Funding is, in part, provided by the Hawaii Council for the Humanities.
eFIL: Filipino American Digital Archives and History Center of Hawaii
New digitized publications -- including Sakada: Filipino Adaptation in Hawaii, Ruben Alcantara's study of Filipino migrant workers in Hawai'i -- and other updates of FAHSOH's digital archive project and preservation resources are available on the eFIL website.
Philippine Komiks: Creating and Reflecting Filipino Sensibilities
On going from December 11, 2011
Filipino Community Center, Waipahu, Oahu.
FAHSOH member Clement Bautista, administrator of eFIL: Filipino Digital Archives of Hawaii, assembled a traveling exhibit on Philippine komiks entitled, Philippine Komiks: Creating and Reflecting Filipino Sensibilities. The exhibit explores the formal constructs of komiks and how they communicate through their structural features. From the earliest known komiks created by Philippine national hero, Jose P. Rizal, to contemporary variations of the superwoman Darna, Filipino notions of time, place, personhood and hierarchy are created and reflected. By examining komiks within the Philippine context, as an activity of objectified reflection, this project will attempt to present a more generalized approach to understanding the comics phenomena that continually captives our society. Funded, in part, by the Hawaii Council for the Humanities. Go to Philippine Komiks exhibit webpage: [click here].
Exhibit previously on display at Hamilton Library Asian Collection (University of Hawaii at Manoa) and the Hawaii State Library (Honolulu).
FAHSOH 2017
Coverage of FAHSOH activities in 2016. [FAHSOH 2017]
FAHSOH 2016
Coverage of FAHSOH activities in 2016. [FAHSOH 2016]
FAHSOH 2015
Coverage of FAHSOH activities in 2015. [FAHSOH 2015]
FAHSOH 2014
Coverage of FAHSOH activities in 2014. [FAHSOH 2014]
FAHSOH 2013
Coverage of FAHSOH activities in 2013. [FAHSOH 2013]
FAHSOH 2012
Coverage of FAHSOH activities in 2012. [FAHSOH 2012]
FAHSOH 2011
Coverage of FAHSOH activities in 2011. [FAHSOH 2011]
FAHSOH 2010
Coverage of FAHSOH activities in 2010. [FAHSOH 2010]
FAHSOH 2009
Coverage of FAHSOH activities in 2009. [FAHSOH 2009]
FAHSOH 2008
Coverage of FAHSOH activities in 2008. [FAHSOH 2008]
eFIL: Filipino American Digital Archives and History Center of Hawaii
Updates of FAHSOH's digital archive project and preservation resources are available on the eFIL website. [link]